Optical
A new service offered by Shoppers Drug Mart
Concept store design & execution of 2 pilot stores / Retail / Toronto / 2017 / Project Manager & Designer lead / TUX



The mandate asked by Shoppers Drug Mart consisted in developping the design and implementing the construction of two pilot stores with a new in-store offering: eyewear and optometrist services.

Using its well-established notoriety in healthcare through its pharmacies and more recently, in beauty and fashion through its Beauty Boutique, Shoppers Drug Mart wished to develop a new offering: eye care and eyewear.

The aim was to position Shoppers Drug Mart optical department between stores such as Lenscrafters and Perle Vision - known for their good selection and high quality lenses - and stores such as Loblaws Optical - known for its convenience, pricing, efficiency of service - and lastly, independent and local optical stores that offer higher quality and trusted service.

Many questions arose: How to express high quality service? How to show prices in store without visually cluttering the environment? How to present a broad selection of frames? How to merchandise in a way that facilitates product selection? Perhaps most importantly, how to differentiate Shoppers Drug Mart Optical from existing optical stores?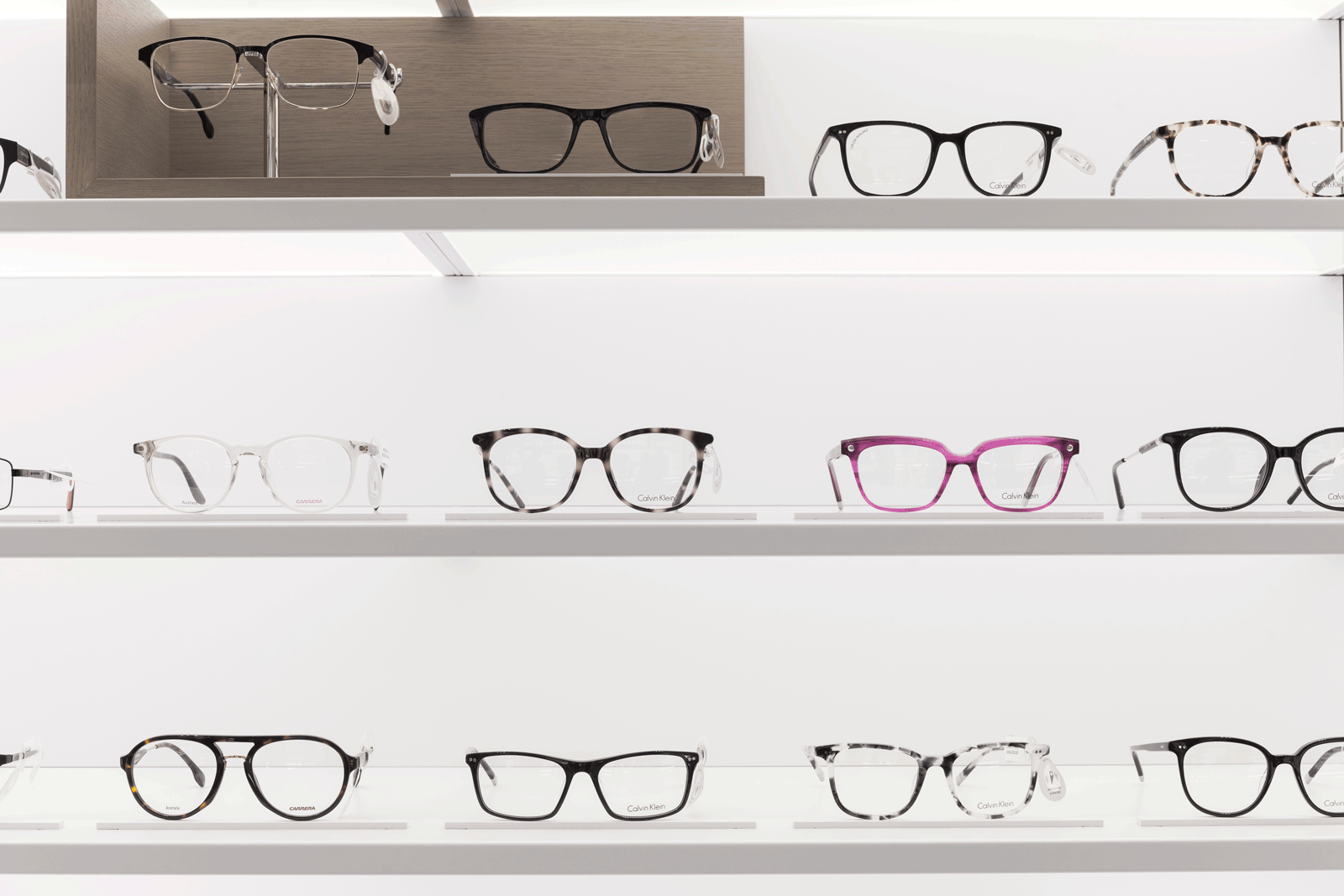 The overall design intent was aimed at both brand chasers and deal chasers, therefore focusing on the fashion and style aspect of purchasing a pair of lenses, while expressing a sense of professionalism and clinical sobriety.

Our multiscale design approach pushed us to work on curb appeal, interior look & feel, space division and sub-spaces, merchandising and digital integration.

Design elements such as a bright and uniform general lighting scheme and the use of a mesh grid for security purposes made it possible for shoppers to walk effortlessly into the optical department and browse through the displayed merchandise, even during the stores' closing hours.

The injection of wood and felt creates a warm and inviting environment, while the use of neutral colors and the integration of clear-edged LED lighting details infuse a sense of a technological and clinical sophistication. Moreover, the use of high-tech ultra-mat finishes for the millwork and the integration of floor-to-ceiling mirrors gives a contemporary and premium feel.

Finally, details such as the custom-design shelving system and the integrated lens stoppers render the merchandising display clean, upscale, modular and efficient at the same time.

Essentially, the design was developed to pique shoppers' curiosity through a quick and easy comprehension of the product offering and to give great visibility to the Optical department within the overall environment of the store; to create a well-defined and differentiated "shop in a shop".

Store 0779: For this pilot store, the small footprint led us to develop a new configuration for the consultation area and the POS, in order to maximize the merchandising area. Additionally, working in parallel with both pilot stores pushed us to experiment on an alternative finish to replace the felt, which for store 0779, was a graphic vinyl wallpaper.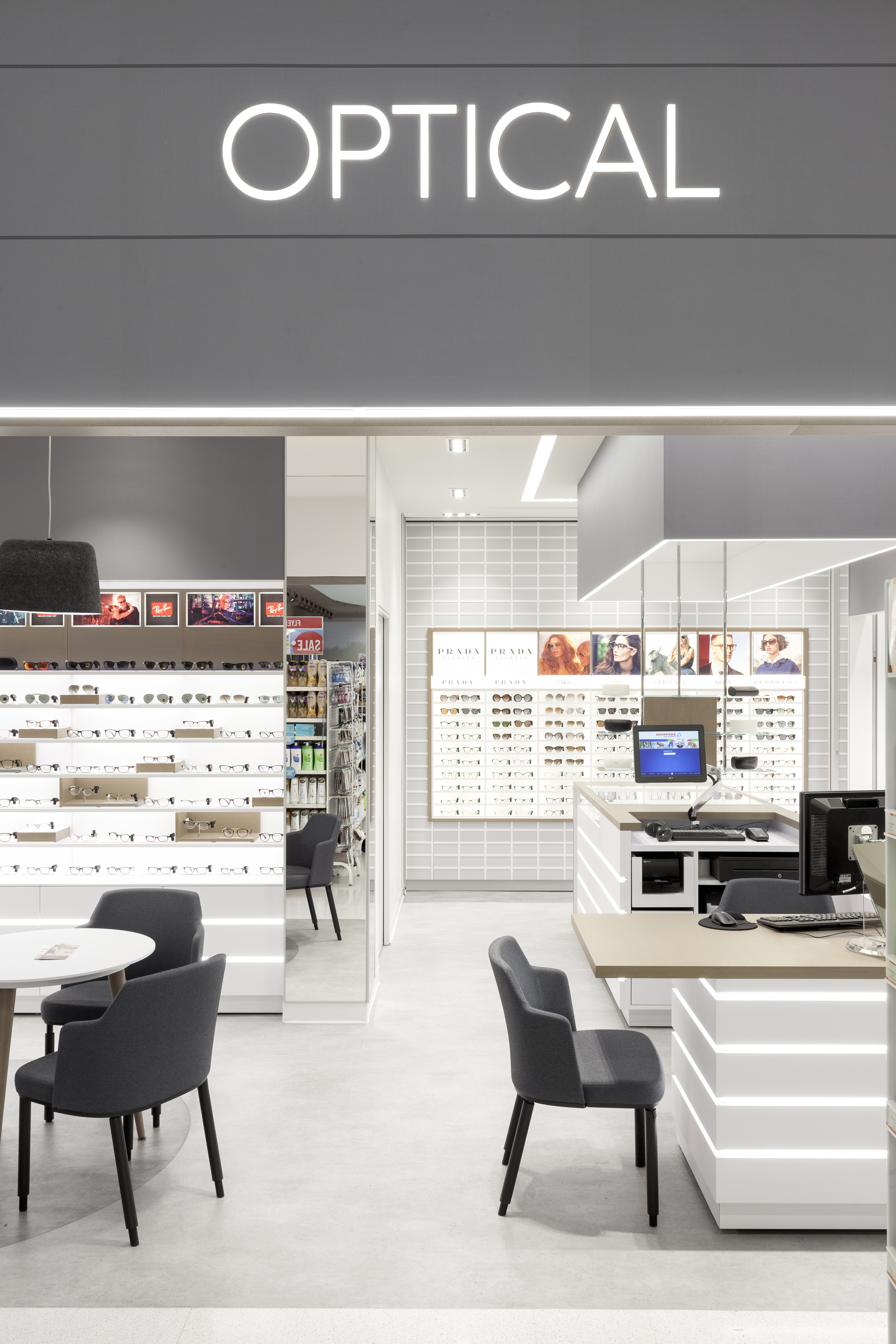 Photography credit: Maxime Brouillet https://www.maximebrouillet.org/